The Overview
Welcome to this portfolio. I hope you will find here a clear picture of my technology integrations and design abilities. I have created 4 sections: Tools, Video Integrations, Web Resource Integrations, and Social Networking Integrations. Under each subheading I provide a brief narrative explaining what you will find in each section.
Tools
In this section I delineate the tools I use to design and implement to make these integrations possible.
The first is obvious Blogger - you can see I am able to embed, hyperlink, create pages, embed pictures, create forms, and effectively organize a visually attractive blog.
To create some of the items on this page I have used Camtasia, Snagit, Awesome Screen Shot, Adobe Acrobat, Windows Movie Maker, and iMovie to mention a few.
Video Integrations
The Video Integrations section demonstrates how I used video in three areas: Instruction, Tutorial, and Entertainment. Many of the videos I created over the years are hosted on my YouTube Channel. Under each video is a short explanation of the purpose, audience, tools used, and overall success. Although hosted on YouTube, I have embedded these videos on my Blog, and on several learning management systems like D2L, School Fusion, and Blackboard. Enjoy.
Instruction
This is my exploration into the Flipped classroom, but not my first video. The purpose of this video is to create more time in the class to actually work on the assigned project. Here I am explaining to my undergraduate students the upcoming video project that I based on NPR's "This I Believe" project. (This I Believe Project Sheet) By doing this the students were able to search on their own, email me any questions, and create their own understanding of the project. The opening scene I used a Flip camera that I fed into a MacBook by simply selecting it as a drive. This allowed me to circumvent the embedded Flip program and pull the raw data directly into iMovie. However, I found it was easier to simply use the integrated video camera in the MacBook. I did sacrifice quality as you can see from the introduction to the the first segment. Using iMovie was very intuitive, and I was able to edit the video on the fly. Over all the project and the delivery was well received by my students. If you would like to see a finished product check these out: Andrea, Hayden, or Nina
If you would like to see more on Flipped Learning and the Flipped classroom visit my blog post -Flipped On!
Preservice Teacher Exploring the Flip
This project was with elementary preservice teacher through Edinboro University. They were task to design a flipped lesson and create the instructional component of the flipped lesson then the activity to follow the next day. Throughout the project, we addressed concerns about the lack of technology at home in a rural setting. We discovered research showing successful intergrations of flipped learning by creating DVD's, opening the library earlier for access, public usb's for checkout, and using class time to create stations based on student readiness. Here are their projects:
Tutorial
This video playlist is part of my series titled "HTDT"- How To do that.This video was created for my undergraduate students at Edinboro University. Many, many students were struggling with Blogger and felt they needed more support outside the classroom. I created this tutorial to support their needs. Since I didn't have a lot of time and didn't want to invest in a new screenshot program, I found Cam Studio which is free and pretty strong. I have used others before like Media Encoder Camtasia, and Snagit, but Cam Studio was simpler and more efficient for my needs. I moved the raw data into the older version of Windows Movie Maker. You can see I have tried to create a theme behind the series - thanks Alice Cooper. The students really used the video and they didn't complain about the resolution, so I think it was successful.
This is not a pretty video, but it was a learning experience. I assigned a Blogging Lesson (See "Blogging Lesson" in the Teaching Portfolio) that caused a bit of confusion for my undergraduate students. After several comments and emails, I created this video using Photobooth, the embedded camera, and iMovie on a MacBook. Again, it is a bit raw, but you can see it is pretty seamless. More importantly, after the video release and an extension on the assignment, every student turned in the assignment and the feedback from this assignment was clearly positive.
Entertainment
I created this video animation on Go Animate for my eldest daughter's run for SCA president. I included this because, although I used Go Animate before in my professional life for discussion topics with students, public service announcements, and subject introductions, I seemed to be locked out of my original account and thought this would demonstrate my tech acumen. This was intended for the student body to inform them about her platform and the upcoming election. Go animate is very intuitive and amazingly integrated with Youtube and other social networking sites. She used the video both on YouTube and on her election blog. In terms of success, it only has 23 views prior to the election, but it was fun to make, and more importantly, she loved it.
I created this video as an announcement video for my daughter's run for SCA President. We burned this on a CD so the school could show it, hosted it on her YouTube channel, and embedded it into her blog. I used Audacity, a free digital audio editor, to record and manipulate my narrations, my iPad to record video, and Windows Movie Maker to create the movie. Before I began, I had to learn how to create the Star Wars effect. After a quick search, I located a YouTube video that articulated the steps to recreate the Star Wars font and introduction theme. Overall, this was a big hit with the students. My daughter's feedback was excitement. What this project demonstrates is my ability to tackle complex projects, seek out resources for support, and create a highly refined and effective presentation.
Questions, Comments, and Considerations?
Web Resource Integrations
In this section you will find several web resources I have used in the classroom and serve as a part of my personal learning network to support my continued growth in the areas of design and integrations. This section is divided into the following two areas: Classroom and PLN. In each section I have highlighted three online tools, but at the end of of this section I have listed other sites not highlighted.
Classroom

LiveBinders is a great website that I used in several different ways from presenting new material, assigning readings, or having students create their own on an assigned topic. I used this as an introduction to Flipped Learning. Creating the Binder was very simple. More importantly the site allows you to collaborate, search, and explore other binders and authors. There are plenty of educators at all levels using this site to collect information and share it. Look at all the searchable binder topics to the right. Below is my binder and two others I use and refer to regularly. Great site!
Flipping the Classroom
Cel.ly is another great tool I used in both high school and college. This is a great site to integrate those pesky phones into your classroom. You can access your groups from your phone or the web. I used it to take polls in the classroom, keep students updated with course content, or changes in the curricula. I have also used it to share positive feedback directly to students or to the entire group. No phone numbers shared or exchanged. Students join the group by texting to the group, they choose an avatar, and you control their access. The site also allows you to search public groups to join. So I also use this in my own personal growth by belonging to groups like @TechIntegrate and @NWAllPrep.
The Box.com is a wonderful file sharing site. I also have used dropbox and google docs, but I was an early member here at Box and was awarded 50 gigabytes of free online storage, so I am partial to the Box. Anyway, this is a great site with apps for iPhone and Android. I use this directly with my student teachers in the field. I was able to hold discussions, share files with groups or individually. In fact I was able to create individual folders for each of the teacher candidates where I posted observation forms, resource support, audio files collected in class, pictures, and short videos also collected during observations. This really enhanced the supervisor and student teacher collaboration and growth.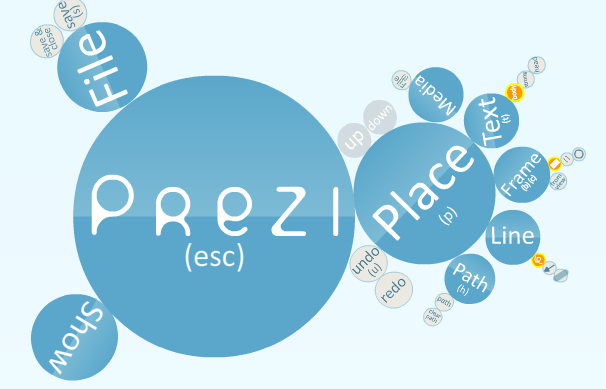 This is another great tool I use professionally during conferences or small group presentations. The three featured here were made this last academic year. The first was made to accompany a presentation to the faculty at Edinboro University. It focused on using social networks within the university classroom.
The second Prezi I created as a stand alone presentation featuring an embedded video created by Dr. Joe Johnson of Edinboro. This presentation was a recruitment platform for the Middle and Secondary Education Department at Edinboro University.

(There is a music accompaniment to the Prezi. Click on that first then move through the presentation.)
The final Prezi was created by my student teacher Corey Garland who after my suggestion and quick tutorial made a highly effective Prezi that he presented to his 10th grade English class on creating and delivering effective presentations. Students didn't have to use Prezi, but this became the tool to present the framework. He made it public and the students could refer to it as they made their own presentations on Greek Mythology. Enjoy! Click here.
Personal Learning Network
Promoted by Rob Macanabelli and Will Richardson's in their book Personal Learning Networks: Using the Power of Connections to Transform Education I have adopted this model to develop and create my own PLN. It is small but growing quickly. These are sources I use to ask questions, share ideas, gather support, learn, and grow in any field of study. My PLN's focus specifically on Education, Higher Education, and Technology Integrations and Design. A big part of the PLN is the social applications like Facebook, Twitter, LinkedIn, Ning and Google+. But I have saved them for the next section.
Google Reader is where I began my first foray into PLN's. I didn't realize this was the beginning, but I found myself using this rss aggregator to collect the writings, musings, and considerations of bloggers in the fields of technology and education. A lot of what I share on my social networking sites is from my weekly discovery reading what comes into my reader. It reads really nicely on my iPad. However, I have discovered FlipShare App on iPad, so I see in the near future a shift. But what is nice about Google Reader is the Google integration with Blogger and the ease of adding a subscription. Following blogs is a great way to share resources and consider the ideas of others. Here are a few of the blogs I follow: Will Richardson, Rob Manacabelli, Alan November, Shelly Blake-Plock, Dan Pink, Kathy Schrock, and several others.
Other Integrations
Social Networking Resources